We have three modern installations for the production of alternative fuel (RDF): in Mielec, Kozodrza and Chełm. We help in Poland to manage waste most effectively.
The activity of EURO-EKO in the field of alternative fuel production began in 2003 with opening of the first plant – Alternative Fuel Plant in Mielec. In the following years the Alternative Fuel Production Plant was established in Kozodrza at the same time expanding another yard in the EURO-PARK SEZ – Ostrów Subzone. In this way a new ZPPA Kozodrza II plant was created which achieved full production capacity in 2011. In the first quarter of 2012 the Alternative Fuel Production Plant in Chełm was also launched.
In 2019, the machinery park of the plant was modernized.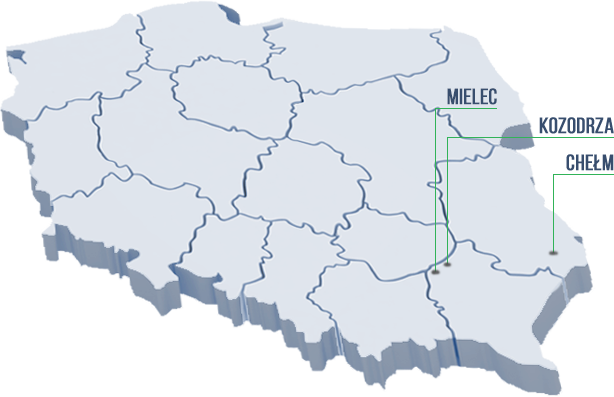 MIELEC
Zakład Produkcji Paliwa Alternatywnego Mielec
ul. Wojska Polskiego 3
39-300 Mielec
tel./fax.+48 (17) 788-69-91
e-mail: zppamielec@euro-eko.mielec.pl
KOZODRZA
Zakład Produkcji Paliwa Alternatywnego Kozodrza
tel.+48 (17) 717-37-67
tel. kom. +48 531 016 251
fax.+48 (17) 250-08-13
e-mail: zppakozodrza@euro-eko.mielec.pl
CHEŁM
Zakład Produkcji Paliwa Alternatywnego Chełm
ul. Fabryczna 6
22-100 Chełm
tel./fax.+48 (82) 564-23-86
e-mail: zppachelm@euro-eko.mielec.pl